Area
Your holidays in Montesilvano are the right starting point to discover Abruzzo together with us at the Hotel D'Atri!

MONTESILVANO
---
The city of Montesilvano, founded in 1236, is divided into the old part and the modern part thereby offering travelers the opportunity to visit a historic medieval village and enjoy the beaches of the Riviera at the same time. The maritime part of Montesilvano is full of equipped and modern beaches as well as gardens and urban parks. Between Montesilvano and Pescara extends the Riserva naturale Pineta di Santa Filomena, where you can walk and relax under the shady foliage of the trees. You can easily reach Pescara from motesilvano, just 4 km apart, one of the most important cities on the Abruzzo coast.

PESCARA
---
Pescara, the birthplace of the famous poet Gabriele D'annunzio, is renowned for its beaches and events such as the Pescara Jazz which is one of a kind in Europe.
Enjoy the stores on the street and the fun that the city has to offer. We are sure you will not be disappointed!

SHOPPING AND CONGRESSES
---
If you love shopping, you can't miss Città Sant'Angelo Village, the first outlet of the Riviera, just 10 minutes from our hotel. In addition, near Hotel D'Atri, there is also the Palacongressi d'Abruzzo, which is the largest congressional hall in centeral-southern Italy. The multipurpose hall can host up to 3000 people.

Let yourself be conquered by the beauties that Abruzzo is able to offer, our staff will be happy to offer you the most useful advice so as not to miss any jewel in the area!

OUR SURROUNDINGS
---
The hotel is surrounded by special villages and towns, ideal for a visit of a few hours. Lanciano, Atri, Chieti and Città Sant'Angelo, each with its own history and vocation. Lanciano, for example, has numerous monuments, starting from the Sanctuary of the Eucharistic Miracle, passing through the Church of San Francesco, Lanciano Cathedral and the Church of Saint Mary Major. Atri, on the other hand, will amaze you not only with its museums but also with its naturalistic beauties. Among the places not to be missed, we recommend Palazzo Acquaviva, Palazzo Mambelli and Palazzo Vescovile. In Chieti, you can't miss the Roman Amphitheater, Teatro Marrucino and the Chieti Cathedral, while Sant'Angelo awaits you with its panoramic view of the Gran Sasso and the Adriatic Sea, vineyards, olive groves and its historic center that recalls the Middle Ages, with its fishbone shape.

SPECIAL OFFERS
---
Special offers for events in Montesilvano and Pescara
DISCOVER
Happy holidays at Montesilvano!

Request a quote
WE WILL SEND YOU OUR BEST OFFERS
In the heart
OF MONTESILVANO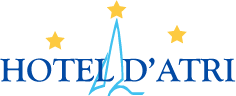 Montesilvano(Pe) - Via Calabria 14/1 65015 - IT
Tel.
+39 085/4450112


P.Iva 01677290684
-
Privacy & Cookie Policy
-
Cookie preferences