Hotel
Hotel D'Atri in Montesilvano is open all year round. Our hotel is a family hotel near Pescara with caring and professional staff to take care of you at all times thereby making your holiday special. We are also the optimal location for business travelers. Courtesy, preparation and customer care is a must for us who wish to welcome you in a peaceful and harmonious environment.

The family is at the center of everything to us and we take special care to provide services for you who are traveling with children. At Hotel D'Atri you will always find indispensable comforts such as our free private parking, CCTV monitored, inside and outside the hotel as well as the private beach equipped with bar service, beach umbrellas, sunbeds and lots of entertainment for your little ones!

We are in the heart of Montesilvano and our location is therefore ideal as a starting point for pleasant walks along the coast to check out stores or attend the many summer events. We are just 90 meters from the beach and 4 km from the city of Pescara where you can easily reach by private or public transport. Abruzzo International Airport and the Tourist Port can be reached in 15 minutes by car or you can use our shuttle service.

Some areas of our hotel were recently renovated. A new lobby as well as a new thermal insulation to make the rooms warmer in winter and cooler in summer, an innovative solar system and a beautiful playground for your children. We also recently obtained the ISO 9001 certification which we are very proud of. Not forgetting the absence of architectural barriers which makes the hotel accessible to all! All this to make your stay as pleasant as possible!

A SECOND HOME
Every moment at Hotel D'Atri is pure pleasure: from the fantastic breakfast, to the delicious tastes from our restaurant, to the pampering of our staff and our welcoming smile...
WE ARE AT THE CENTER
We are located directly by the sea in Montesilvano. We are just 90 meters from the beach and 4 km from Pescara. The Airport and Tourist Port are only at a 15-minute drive from us.
ISO 9001 CERTIFICATION
Our hotel was recently renovated, you will now find a new thermal insulation, an innovative solar system, and the complete absence of architectural barriers.
See certificate
BRAND NEW PLAYGROUND
A new playground was created in the hotel that we are sure all the kids will love: in the new playground there are bouncy castles, sprung toys and tables which the kids can use to play or draw, all in a safe and enclosed area.
SPECIAL OFFERS
---
Special offers for events in Montesilvano and Pescara
DISCOVER
Happy holidays at Montesilvano!

Request a quote
WE WILL SEND YOU OUR BEST OFFERS
In the heart
OF MONTESILVANO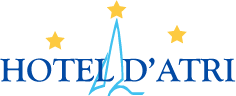 Montesilvano(Pe) - Via Calabria 14/1 65015 - IT
Tel.
+39 085/4450112


P.Iva 01677290684
-
Privacy & Cookie Policy
-
Cookie preferences